En 2018, Ski-Doo continue d'appuyer les séminaires gratuits à la sensibilisation aux avalanches
BRP et sa marque de motoneige Ski-Doo continuent d'être un chef de file dans la promotion de la sensibilisation et la prévention des avalanches auprès des motoneigistes. Ils entament leur huitième année de commandite pour plus de 40 séminaires gratuits pour les motoneigistes de toutes marques en Amérique du Nord.
Pour plus d'informations, lire le communiqué de presse :
Ski-Doo Continues Its Support of Free Avalanche Awareness Seminars In 2018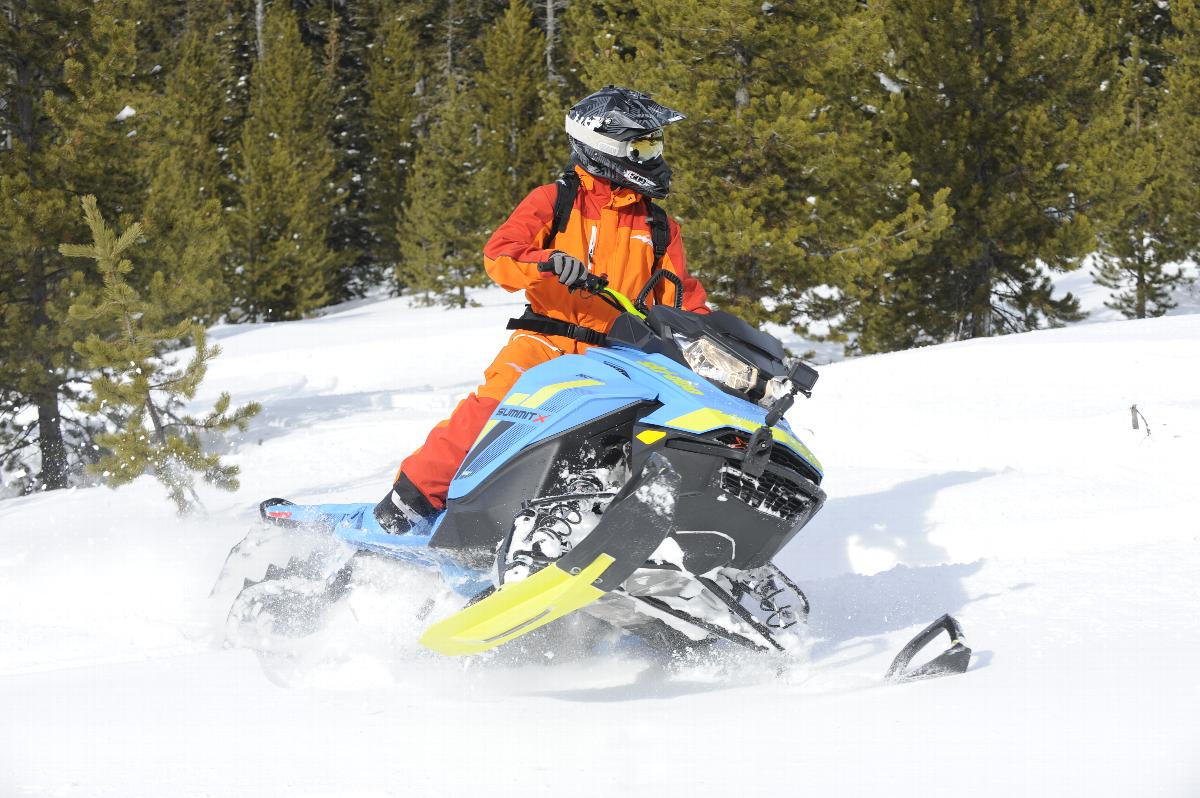 BRP with its Ski-Doo snowmobile brand continues to be a leader in promoting avalanche awareness and avoidance for snowmobilers as they enter their eighth year of sponsoring more than 40 free seminars – to riders of all brands – across North America.
Backcountry Access (BCA), one of the most well-known and respected manufacturers of avalanche safety equipment, will again support these seminars with equipment and their in-depth knowledge of recreation in the backcountry. To date more than 19,000 snowmobilers have taken part in Ski-Doo-sponsored avalanche awareness seminars since 2009.
The seminars offer a mix of classroom and interactive content for riders of all skill levels, and riders are encouraged to bring their friends along even if they ride other brands. The incentive is clear – bring friends and riding buddies to ensure the people they ride with are also well informed. In addition to sponsoring seminars, Ski-Doo and BCA also team up with Backcountry Ascender, an online backcountry education platform. It is a free, self-directed program that provides basic avalanche education and encourages traditional courses to advance to higher levels.
Much of the course content can be completed online, and it will direct users to relevant in-person courses like the Ski-Doo/BCA-sponsored seminars. Backcountry Ascender is supported by the International Snowmobile Manufacturer's Association (ISMA), of which Ski-Doo is an active member.
"Keeping backcountry safety awareness top of mind through education and exposure remains a priority for Ski-Doo, and this is why we continue to support avalanche training," said Marc R. Lacroix, Global Ski-Doo and Sea-Doo Marketing Director.
"Through our trainers, BCA and Backcountry Ascender, we've partnered with experts to design snowmobile-specific seminars that are educational and entertaining for participants. Together we make it authentic for our unique style of access, fast paced, fun and continue to raise the level of awareness and education even further."
About the Seminars
Seminars in Canada are led by Marshall Dempster, a recognized avalanche forecaster, a Lead Instructor (AST1 and 2) and Backcountry Guide. Dempster is a Professional Member of the Canadian Avalanche Association, professional avalanche forecaster and retired Canadian Avalanche Association Rescue dog handler. He has 17 years of mountain experience focused on safe travel as well as mountain rescue and a passion to share his knowledge.
Mike Duffy of Avalanche1.com, a certified instructor and professional member of the American Avalanche Association leads the seminars in the United States. Duffy instructs at American Avalanche Institute, Alaska Avalanche School and Silverton Avalanche School, and has been giving snowmobile-specific avalanche classes since 1996. As rescue team leader Vail Mountain Rescue Group, Duffy has more than 26 years of mountain riding and mountain rescue experience. He is also a Backcountry Guide/riding instructor.
Seminars are open to owners of all brands of sleds. For up-to-date information on locations and times, or to register for an avalanche awareness seminar, visit the Ski-Doo website, the Ski-Doo Blog and be sure to follow Ski-Doo on Facebook. Most seminars are combined with an open house or mountain-riding event. Participants are encouraged to register with the host dealer so they can plan meeting space accordingly and ensure a spot.
About Backcountry Access
Backcountry Ascender is a free and simple backcountry and avalanche educator. The platform uses educational gamification and good-natured competition to encourage rider awareness and improve their backcountry knowledge, skills and practical experience. The engaging and competitive platform is comprised of industry- and peer-reviewed curriculum of self-directed lessons and in-person courses. Riders earn points for completing lessons and courses to increase their rank as well as their associated club, state/provincial association, dealer and snowmobile brand. Backcountry Ascender is endorsed and promoted by ISMA, its member OEM manufacturers, top pro riders, Avalanche Canada and the American Avalanche Association. For information on the Backcountry Ascender program visit: http://backcountryascender.com.