On-line for a few days already, the new interactive trail map produced in collaboration with GéoProjection has quickly gained in popularity.  The new map, which unlike the previous version does not require the download of a special plug-in (software), contains a much higher degree of accuracy.  In addition to permitting simpler calculation of distances, the map provides topographical information and identifies the boundaries of national parks, wildlife reserves, and Controlled Exploitation Areas (ZEC).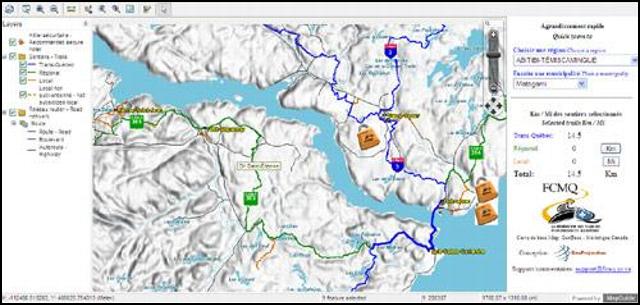 In addition, the names of streets and various small lakes will now appear when making use of the more blown-up formats.  Secure Hotels and snowmobile dealers who have chosen to participate in our Services Guide can also be located.  Finally, the user may also superimpose satellite images to the portion of the map being viewed.

 Internet users who have already made use of this free 3-dimensional geographical information viewing software developed by Google are familiar with its virtually unlimited capabilities.  In addition to the interactive map, the FCMQ and GéoProjection are also offering snowmobilers visualisation of the entire Quebec snowmobile trail network on Google Earth.  This tool is still in development and additional possibilities / capabilities are certainly forthcoming.
We invite you to use these new snowmobile trip planning tools (by visiting the following link: https://www.fcmq.qc.ca/pages.asp?id=139) and to submit your comments and suggestions.  In so doing, you will be contributing to the development of these new services. Happy cyber-sledding!